Tortilla with Shrimp and Leeks
A Spanish tortilla resembles an Italian frittata, but the tortilla is always fried on both sides. It's a useful recipe to master for a dinner party because it needs to be made ahead; most tortillas taste best when barely room or at room temperature. Serve it in thin wedges as an appetizer or with a fluff of baby greens as a first course. A dollop of alioli on top or on the side is not out of place. The Galerie Naissance Napa Valley Sauvignon Blanc is a little creamier than the Knights Valley bottling and an ideal companion for eggs.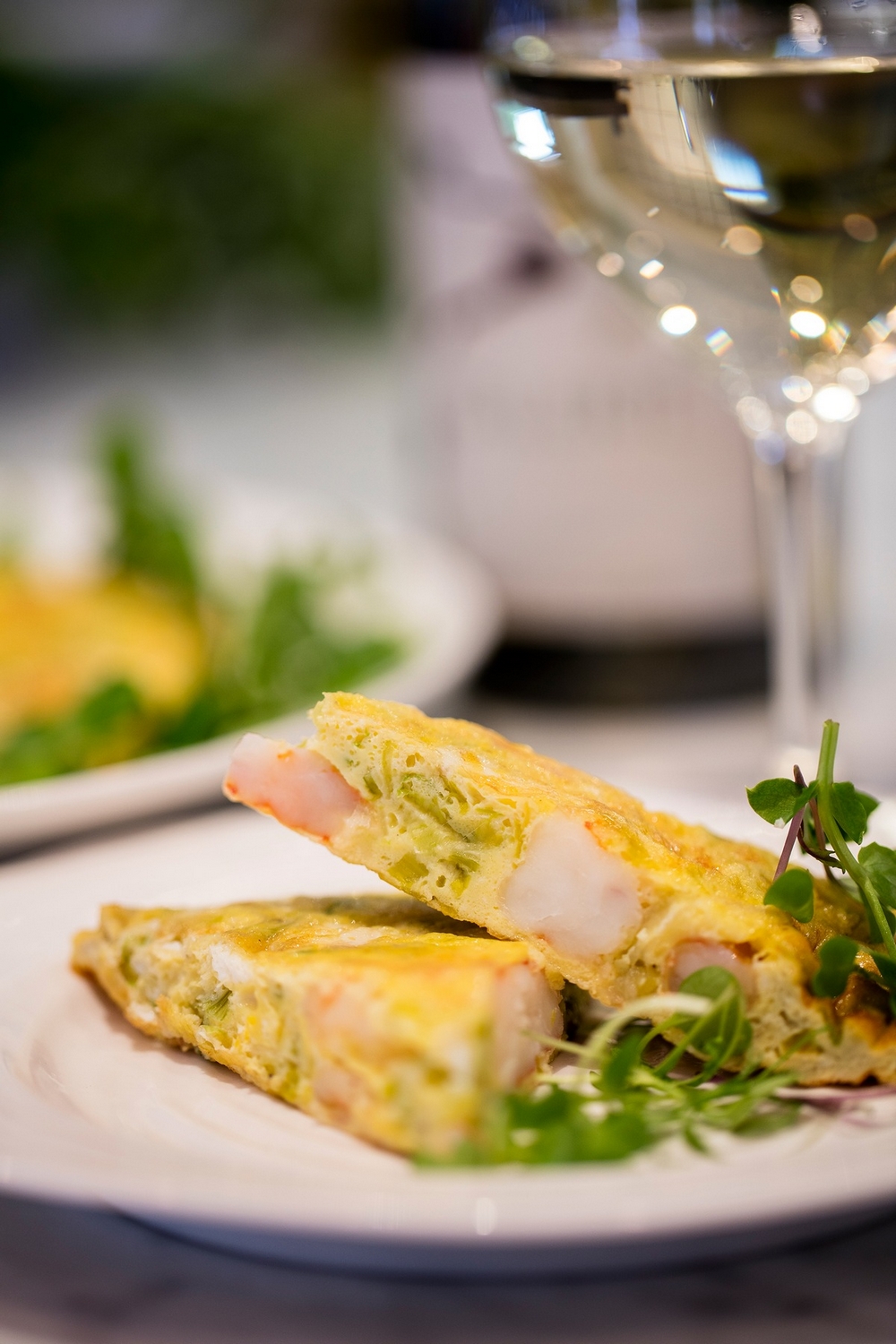 1/2 pound small to medium shrimp, shelled
Kosher or sea salt
2-1/2 tablespoons extra virgin olive oil
Freshly ground black pepper
3 cups thinly sliced leeks, white and pale green part only
8 large eggs
Season the shrimp with ½ teaspoon salt. Preheat a 10-inch nonstick skillet over medium heat. Add 1 tablespoon oil, then add the shrimp. Sauté, turning once, until they turn pink outside and white inside, about 3 minutes. Transfer them to a plate and let cool.
Add 1 tablespoon oil to the skillet set over medium-low heat. Add the leeks, season with ¼ teaspoon salt and several grinds of pepper, and cook, stirring with a wooden spoon, until they soften, 5 to 6 minutes. Transfer them to a plate and let cool.
In a large bowl, beat the eggs well with 3/4 teaspoon salt. Add the cooled shrimp and leeks to the eggs and mix well. Return the skillet to medium heat and let it preheat for a minute or two. Add the remaining ½ tablespoon oil, then add the egg mixture and spread it evenly in the skillet. Cook without stirring until the egg is mostly set but still moist on top, about 12 minutes, lowering the heat if necessary to keep the bottom from browning too much. Run a rubber spatula around the edge of the tortilla to release it, then invert it onto a rimless baking sheet or rimless plate and slide it back into the skillet. Cook about 3 minutes to firm the bottom, then invert onto a serving platter. Let rest at least 15 minutes before slicing. Serve warm or at room temperature, not hot.
Serves: 6
PAIR WITH
Naissance Sauvignon Blanc, Napa Valley
"The 2016 Naissance is a pale yellow wine with aromas of very ripe melon dew, juicy orange, lemon zest, plump pineapple and Asian pear with an intense undernote of fresh cut grass. The finish is long and full but crispy mouthfeel with lingering flavors and acidity."
- Winemaker Laura Díaz Muñoz