Halibut Ceviche with Radishes and Avocado
The Riesling's tropical fruit and ginger aromas complement this citrusy ceviche, and the wine's touch of residual sugar balances the subtle chile heat.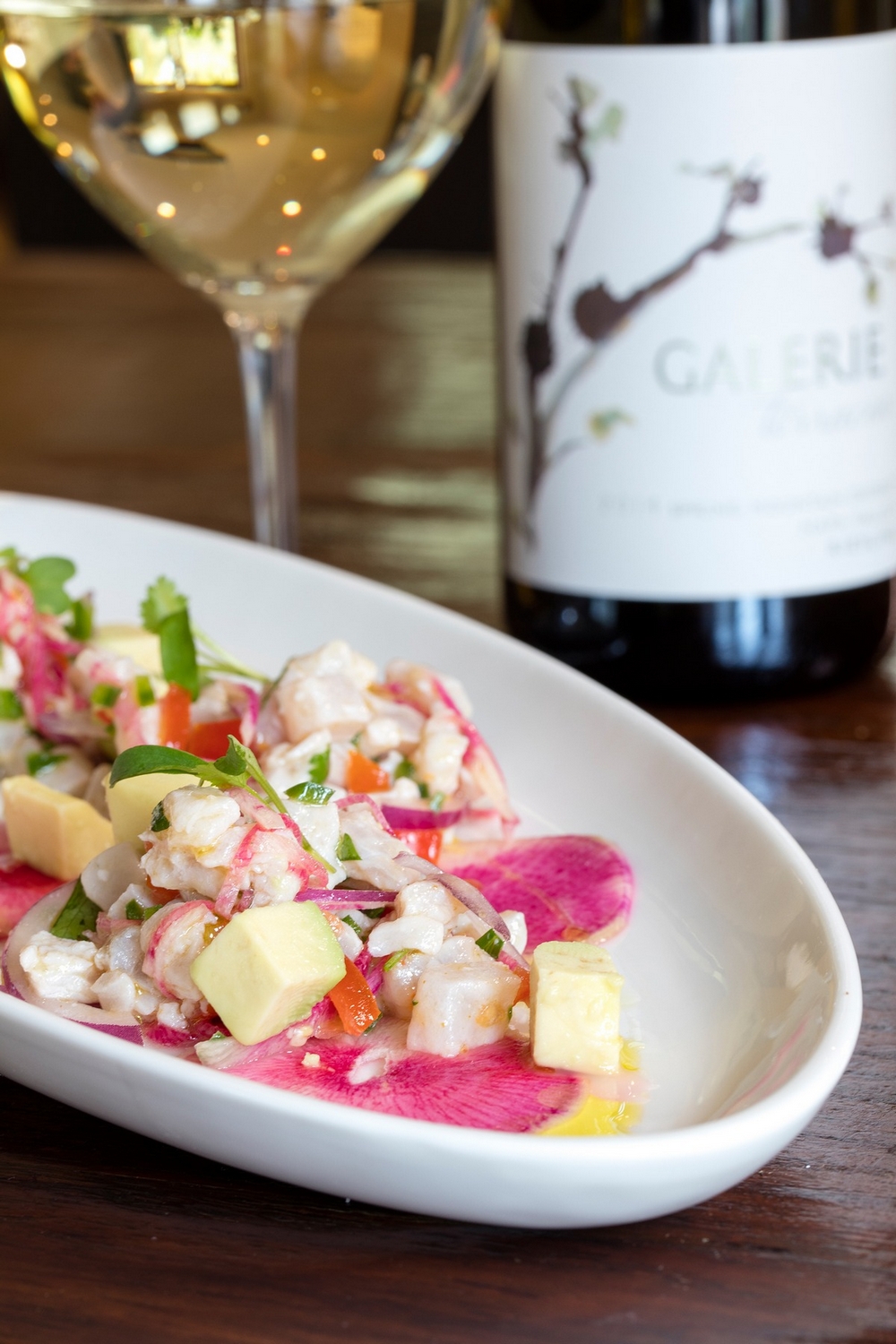 1 pound fresh skinless halibut fillet, in 1 piece, trimmed of all sinew
Marinade:
¼ cup fresh lime juice, plus more if needed
¼ cup fresh lemon juice
¼ cup Galerie Riesling
1/4 teaspoon kosher or sea salt
1 teaspoon whole cumin seed
1 large or 2 small plum tomatoes, halved lengthwise, seeded, in ¼ inch dice
1/2 small red onion, shaved or very thinly sliced
8 radishes, shaved or very thinly sliced
½ cup coarsely chopped cilantro
1 jalapeño chile, halved lengthwise and thinly sliced
2 tablespoons extra virgin olive oil
1 small firm avocado, halved and pitted, in ½-inch dice
Cut the halibut in half crosswise, then slice each half lengthwise about ¼ inch thick.
In a bowl, combine the marinade ingredients and whisk to dissolve the salt. Add the fish and toss with your hands to moisten all the slices, then refrigerate for 10 minutes.
Toast the cumin seed in a small, dry skillet over medium heat until the cumin darkens and becomes fragrant, about 3 minutes. Let cool, then grind fine in a mortar or spice grinder.
In a bowl, combine the tomatoes, onion, radishes, cilantro, chile, cumin and olive oil. Toss gently. Drain the fish well, then add to the bowl and toss gently. Add the avocado and toss gently. Taste and add more salt or lime juice if needed. Serve immediately.
Serves: 6
PAIR WITH
Terracea Riesling, Spring Mountain District
"The 2016 Galerie Terracea is a lightly golden wine that shows vibrant aromas of rose petal, lychee, ripe juicy peach, orange confiture, wild flowers and lavender honey. This wine has a full palate, silky texture and beautiful acidity that enhances the long taste of ripe stone fruit, honey and flowers."
- Winemaker Laura Díaz Muñoz