Farro Risotto with Wild Mushrooms
This Cabernet's forest-floor aromas are right in sync with the earthy flavor of farro and the woodsy mushrooms.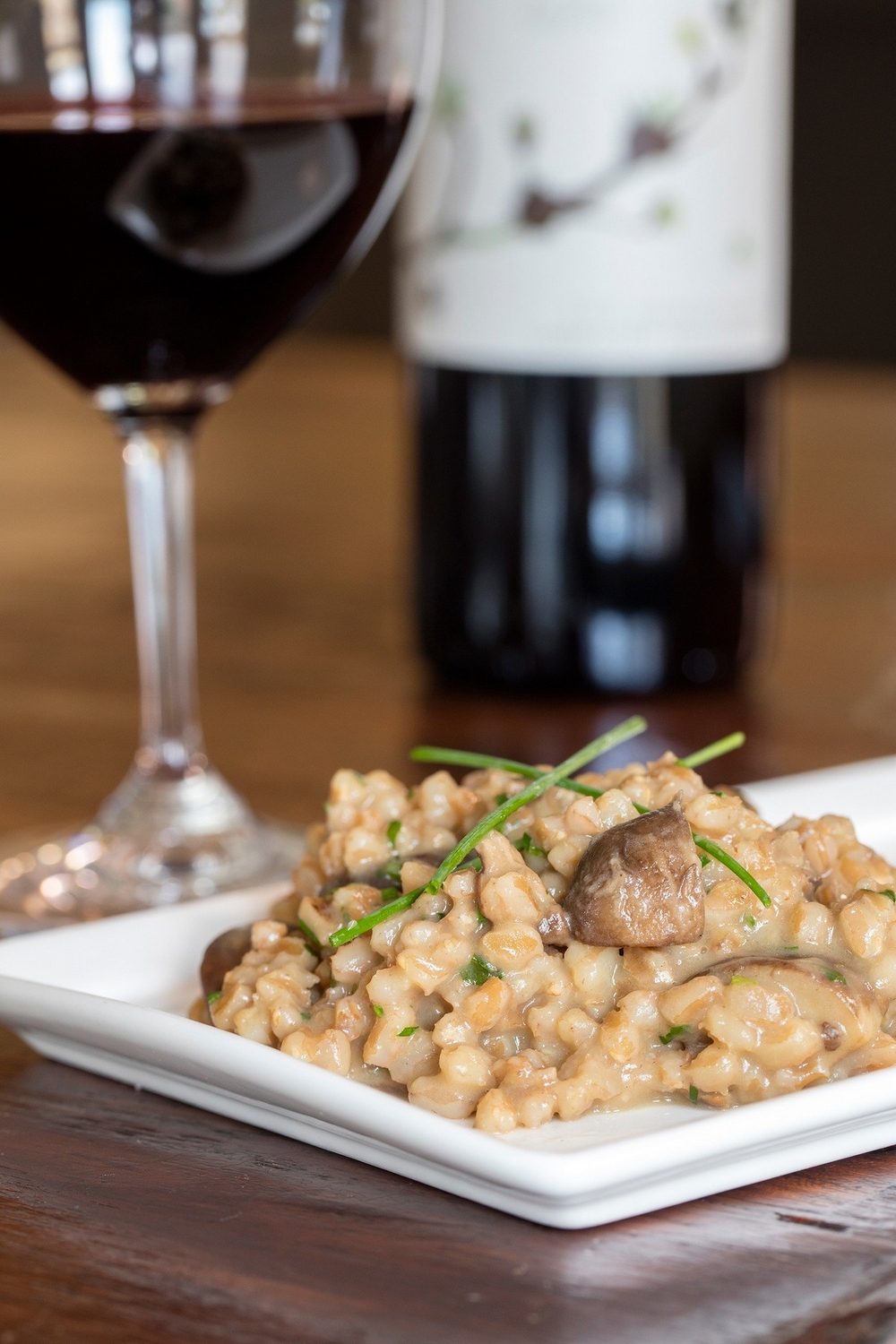 1/2 ounce dried porcini or other dried wild mushrooms
6 cups vegetable broth
5 tablespoons extra virgin olive oil
1/2 pound medium crimini mushrooms, stems trimmed, caps quartered
Kosher or sea salt and freshly ground black pepper
1/2 large onion, minced
1-1/2 cups pearled farro (see Note)
2 tablespoons chopped Italian parsley
Put the porcini in a small bowl. In a saucepan, bring 1 cup of the vegetable broth to a simmer, then pour it over the porcini. Let the mushrooms soften for at least 30 minutes, then lift them out of the broth with a slotted spoon. Chop the mushrooms coarsely. Strain the mushroom broth through a sieve lined with a damp paper towel to remove any grit. Return the strained broth to the saucepan and add the remaining 5 cups vegetable broth. Bring to a simmer, then adjust the heat to keep hot but not simmering.
Preheat a skillet over medium-high heat. Add 2 tablespoons olive oil. When the oil is hot, add the crimini mushrooms. Refrain from stirring for 30 to 60 seconds to allow the mushrooms to sear, then stir briefly and continue cooking, stirring infrequently, until the mushrooms are well browned, about 5 minutes. Season with salt and pepper, then transfer the mushrooms to a plate. Add ½ cup water to the skillet and simmer briefly, stirring with a wooden spoon to scrape up and dissolve any mushroom residue. Add these flavorful juices to the broth.
Preheat a large, heavy pot over medium heat. Add 2 tablespoons olive oil. When the oil is hot, add the onion and sauté until softened, about 5 minutes. Add chopped porcini and cook, stirring, for about 1 minute. Add the farro and cook for about 1 minute, stirring often. Begin adding the hot broth ½ cup at a time, stirring often and adding more broth only when the previous addition has been absorbed. It should take 30 to 35 minutes for the farro to become al dente—firm but not chewy. Stir in the seared mushrooms and the parsley. Cook 5 minutes longer, adding more broth if needed. (You may not use all the broth. If you need more liquid, use boiling water.) The risotto should be creamy, neither soupy nor stiff.
Cover and let rest 2 minutes. Taste for salt and pepper, then stir in the remaining 1 tablespoon olive oil. Divide the risotto among 4 bowls and serve immediately.
Note: Look for farro that has been lightly abraded, or pearled (perlato or semiperlato), to remove some of the bran. Unpearled farro will take much longer to cook.
Serves: 4
PAIR WITH
Latro Cabernet Sauvignon, Knights Valley
"The 2014 Galerie Knights Valley Latro Cabernet Sauvignon is a dark purple wine with notes of red and black berries, dried herbs, Umami, smashed rocks and white chocolate or mocha. Full palate with big pure tannins yet an elegant, long finish with ripe dark fruit and lingering minerality."
- Winemaker Laura Díaz Muñoz