Bulgur and Corn Salad with Avocado and Jamón Serrano
Spain's famous jamón serrano is similar to prosciutto but nuttier and sweeter. Look for it in specialty food stores, where you may find it pre-sliced and packaged, or in delis with a premium charcuterie selection. The bright and citrusy Galerie Equitem Sauvignon Blanc is the perfect complement to all the fresh vegetables in this summery grain salad.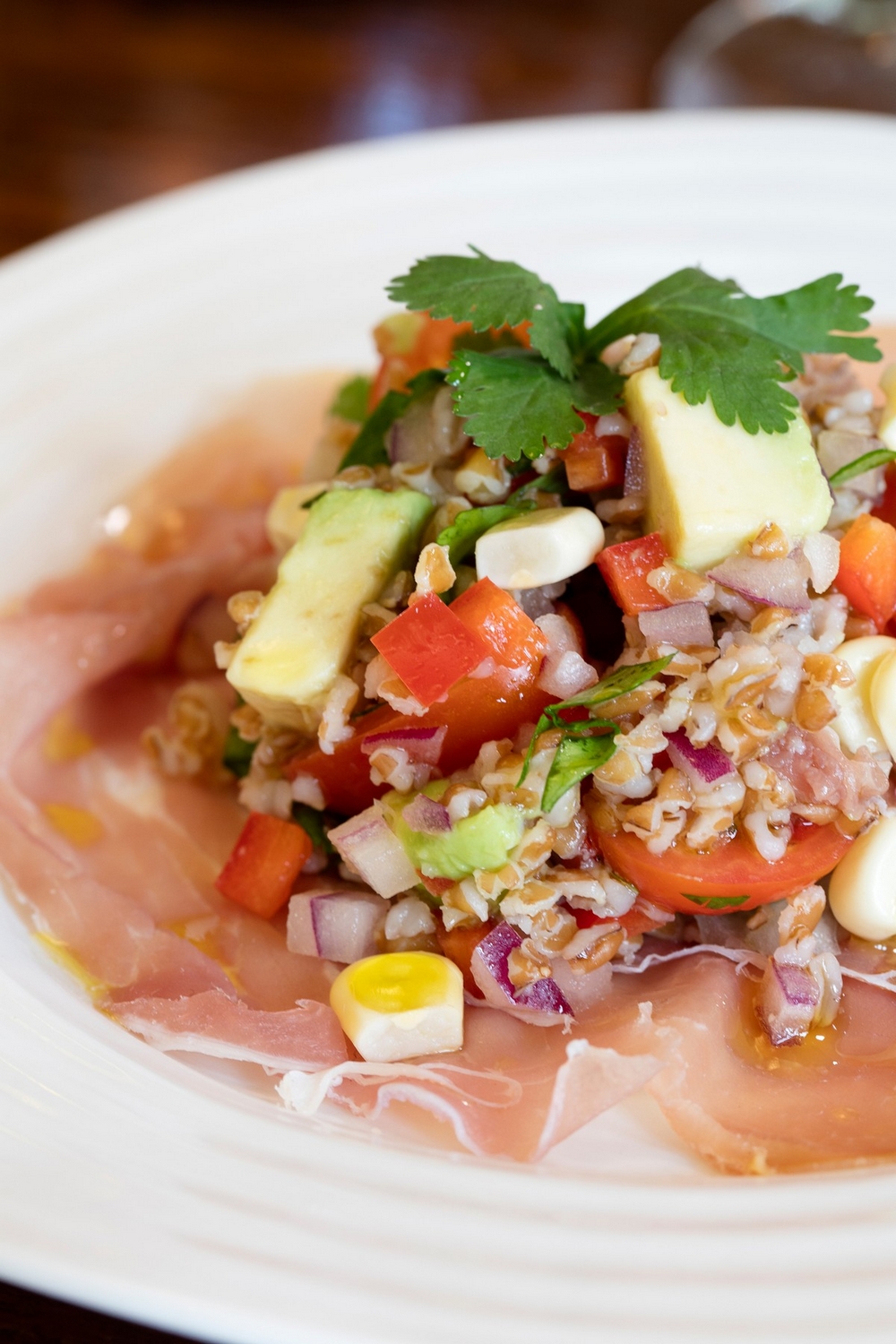 3 tablespoons extra virgin olive oil
1-1/2 tablespoons white wine vinegar
Kosher or sea salt and freshly ground black pepper
2/3 cup coarse bulgur (bulgur #4)
1 large ear white or yellow corn, husked and kernels cut off the cub
1 cup halved cherry tomatoes
1/2 large red bell pepper, finely diced
1/2 cup minced red onion
1/4 cup chopped cilantro
1 Ounce jamón serrano or prosciutto (2 paper-thin slices), shredded by hand
1/2 ripe but firm avocado, in 1/2 inch dice
In a small bowl, whisk the olive oil, vinegar and salt and pepper to taste. Set aside.
Bring 1 cup lightly salted water to a boil over high heat. Add the bulgur and return to a boil. Cover tightly and reduce heat to low. Cook 15 minutes, then wrap the pot lid with a clean dishtowel, recover the pot and set the bulgur aside to rest for 10 minutes.
Transfer bulgur to a large bowl and fluff with a fork. Let cool to room temperature. Add corn kernels, tomatoes, bell pepper, onion, cilantro and ham. Toss gently to mix. Add the vinaigrette and toss again. Add the avocado, toss gently and taste for seasoning. The salad may need more salt or vinegar. Serve immediately.
Serves: 6
PAIR WITH
Equitem Sauvignon Blanc, Knights Valley
"The 2016 Galerie Equitem is a pale yellow wine with a powerful aromatic intensity that shows notes of sweet vanilla bean, white wild flowers, green melon, ripe grapefruit and lime zest. Juicy in the palate and rich with a fresh, long finish. Minerality and sensuosity help define the long bouquet with well-balanced acidity."
- Winemaker Laura Díaz Muñoz