Braised Chicken Thighs with Tomato, Saffron and Green Olives
Saffron and fennel are the aromatic high notes in this succulent braised chicken dish. Serve with steamed rice to soak up the flavorful sauce. The Galerie Pleinair Napa Valley Cabernet Sauvignon has the abundant fruit and lively acidity needed to complement the chicken's highly seasoned tomato sauce.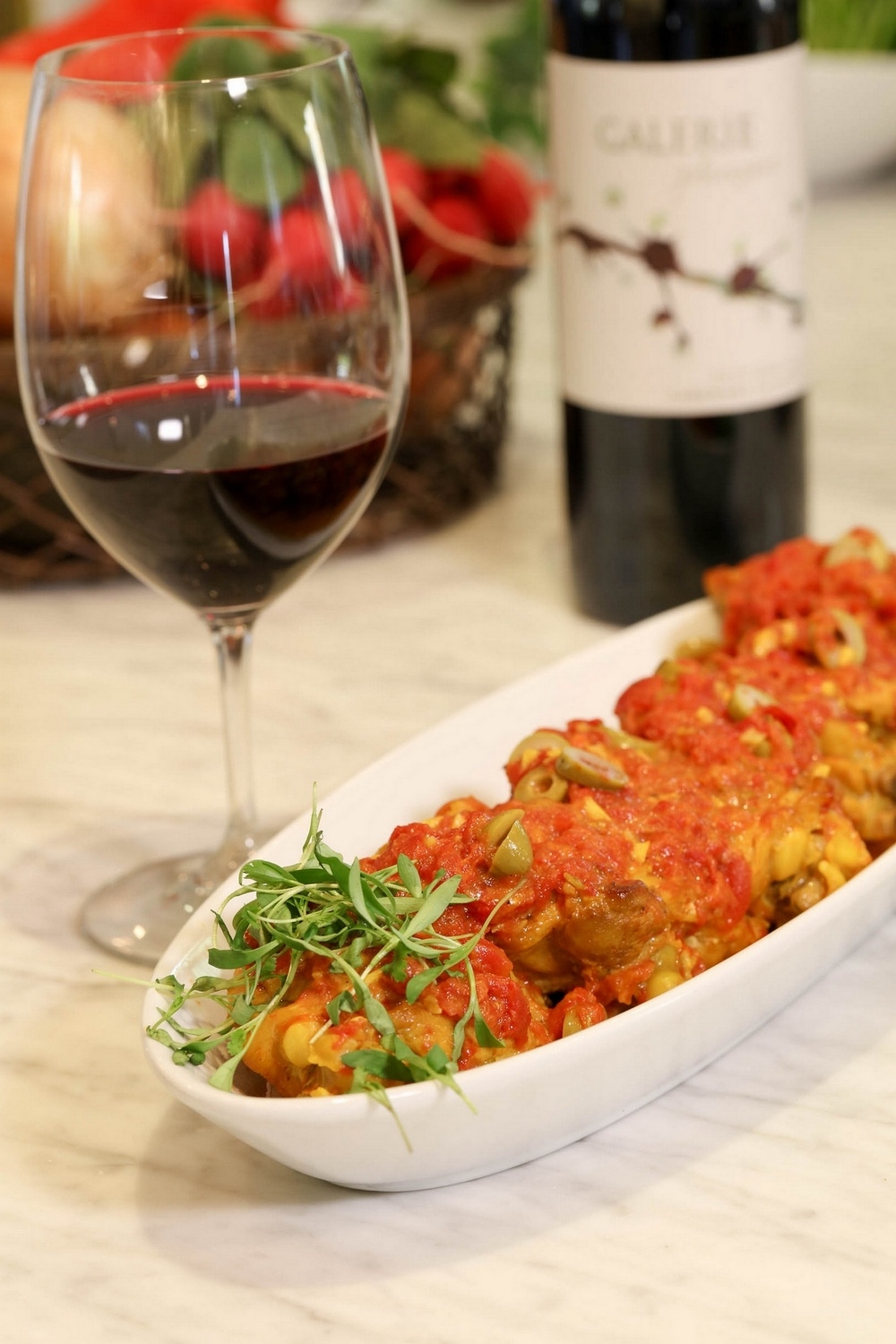 4 large chicken thighs, bone in and skin on
Kosher or sea salt and freshly ground black pepper
2 tablespoons extra virgin olive oil
2 large cloves garlic, minced
1 cup grated ripe plum tomato (see Note below) or 1 cup finely chopped canned San Marzano tomatoes
1/2 cup white wine
1/2 cup chicken broth or water
1 teaspoon coarsely crushed fennel seed or ¾ teaspoon ground fennel
1/4 teaspoon saffron threads
2 tablespoon chopped Italian parsley, plus more for garnish
1 dozen green olives, preferably Picholine or Lucques, pitted and halved
Season the chicken all over with salt and pepper. Heat 1 tablespoon olive oil in a large, heavy skillet over medium-high heat. Add the chicken skin side down and brown well on both sides, about 4 minutes per side. Adjust the heat as needed to keep the chicken from scorching. With tongs, set the chicken aside on a plate. Pour off and discard all the fat in the skillet.
Let the skillet cool for a moment, then return it to medium-low heat and add the remaining 1 tablespoon olive oil and the garlic. Sauté briefly to release the garlic flavor, stirring constantly with a wooden spoon. Add the tomato, wine, broth, fennel seed and saffron and raise the heat to medium-high. Simmer briskly for about 3 minutes to reduce the liquid, then add the chicken and any juices collected on the plate. Cover and reduce the heat to maintain a gentle simmer. Cook 15 minutes, basting with the sauce once or twice, then turn the chicken over and continue cooking until it is no longer pink at the bone, 10 to 15 minutes longer.
With tongs, transfer the chicken to a serving platter. Add the parsley to the skillet, raise the heat to high and cook, stirring with a wooden spoon, until the sauce thickens to your taste. Stir in the olives, then taste the sauce for salt. Spoon the sauce over the chicken and garnish with a little additional chopped parsley. Serve immediately.
Note: To grate plum tomatoes, cut them in half lengthwise. Grate the flesh side on the large holes of a box grater until only the skin remains in your hand. Discard the skin.
Serves: 4
PAIR WITH
Pleinair Cabernet Sauvignon, Napa Valley
"The 2014 Galerie Napa Valley Pleinair is a big but elegant expression of Cabernet Sauvignon from Napa. Deep purple, it opens with aromas of cassis, currants and wild berries and follows with tobacco, graphite, bay leaf and licorice, finishing with layers of flavors and a well-balanced, long mouthfeel with elegant tannins."
- Winemaker Laura Díaz Muñoz